Rhinoplasty Procedures in Minneapolis, MN
Start Feeling and Breathing Better Today
What Is Rhinoplasty?
Rhinoplasty, a plastic surgery procedure also known as a nose job, enhances the shape, size and overall appearance of the nose. This is important, because for many, the nose is the most noticeable facial feature, whether good or bad.
Your nose's appearance and balance with the other features of your face can be just as important to you as its function in allowing you to breathe properly. At Renew Plastic Surgery, we understand the significance of both form and function.
We want to enhance the natural and attractive appearance of your nose without compromising the function. In fact, rhinoplasty can improve proper function of your nose — improved snoring, sleep disorders, sense of smell and taste as well as your ability to enjoy physical activities.
Don't let a prominent hump, asymmetrical nostrils, a drooping tip or deviated septum get in the way of your confidence — or happiness — ever again.
A rhinoplasty performed by one of our Minnesota-based surgeons can help improve facial harmony, boost self-confidence and enhance both the functional and cosmetic aspects of your nose.
Wouldn't it be nice to both feel and breathe better?
Rhinoplasty at a Glance
Some of the conditions that can be addressed by rhinoplasty include: size of nose in relation to face; size, position or shape of nostrils; width at the bridge of nose; humped or hooked noses — often most visible in profile.
During your consultation, you will discuss your goals with regard to appearance and ability to breathe, your health history as well as any previous surgeries. Together, you and your doctor will discuss your options and choose a course of treatment.
Outpatient/inpatient: Outpatient
Length of surgery: 1-3 hours
Anesthesia: General or sedation
Length of recovery: Several months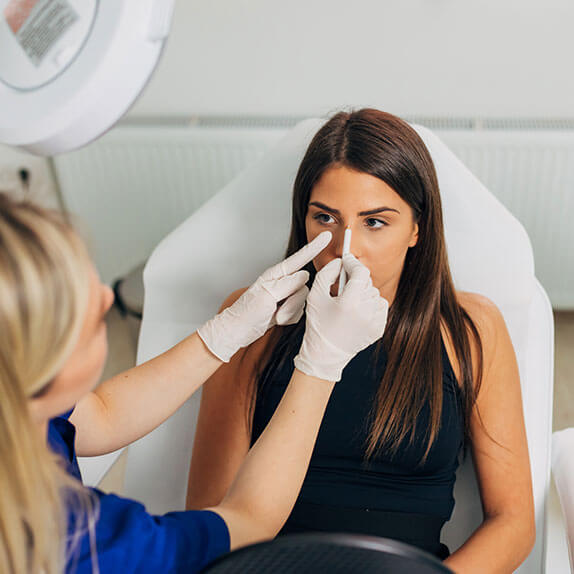 See the Results
There's no denying the impact rhinoplasty can make — see the difference for yourself!
Rhinoplasty
"I  want to thank Dr. Wudel and all of his staff for everything they did for me. I can finally breathe again and I am super happy with the appearance of my nose. Thanks again Dr. Wudel."
Frequently Asked Questions
Insurance will often cover the cost of rhinoplasty for patients who have a congenital problem, damage from an injury, or compromised breathing due to nasal problems. Many times, however, rhinoplasty to correct a breathing issue will also improve the appearance of the nose. Your doctor will perform a complete nasal exam to determine if your needs are strictly cosmetic or if there is also a medical reason to perform rhinoplasty.
Rhinoplasty is typically performed under general anesthesia, meaning you will be asleep and feel no pain during the procedure.
With closed rhinoplasty, all incisions are made inside the nose, resulting in no visible external scars. Open rhinoplasty may leave a small scar on the underside of the nose, but it fades over time.
Patients may experience some discomfort and mild pain after the surgery, but nothing that can't be managed with over-the-counter pain medication.
Yes, rhinoplasty can address issues that may be causing breathing difficulties, such as a deviated septum or narrow nasal passages.
It is generally recommended to avoid wearing glasses directly on the nose for a few weeks after surgery. Your surgeon may suggest alternative ways to make sure you're able to keep quality of life immediately post-procedure.